Kent wedding videographer creating story-driven films that will make you laugh, smile & cry
Annie + Rob // Sevenoaks, Kent
Prizzi + Alec // Preston Court
Astrid + Theo // The Blazing Donkey
Francesca + Nick // The House Meadow
Sophia + Anthony // The Gallivant
Trish + Liam // The Wilderness
Telling the honest story of your day...
Your wedding day will be a roller coaster ride of intense emotions and moments and it is our view that you should devour and enjoy every second of it. The experience can sometimes be chaotic, but that's ok. Even if it rains and pours, enjoy it, embrace it, and maybe even jump in some puddles. The serendipitous and unexpected moments are the greatest gift to a wedding videographer that thrives on telling stories.
Some of the funniest, most enjoyable and heartwarming moments we have experienced at weddings have been gifted by the unpredictability of life. Above all, this is your wedding. Breathe in every moment and cherish the adventure. What will be, will be. And we'll be there to tell the story.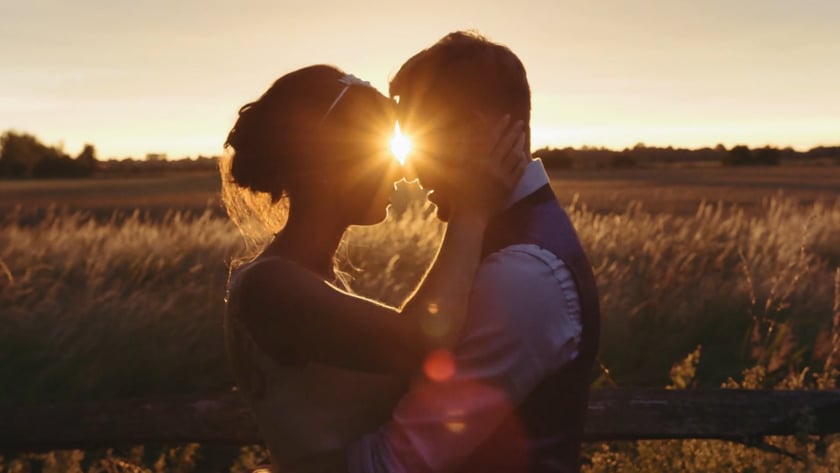 We are people watchers...
We want to tell your story in the most honest and authentic way possible. This means standing back to allow moments to unfold naturally. Obviously it is impossible for us to be completely invisible, however we try our best to blend in by using minimal equipment. We're also not a wedding videographer that tells people where to stand and what to do because life is more beautiful in its natural form. Above all, the best weddings are the ones where everyone is feeling relaxed and enjoying the occasion.
At some point we may ask to take you off somewhere alone for 5 to 10 minutes, along with the photographer, to capture some moments of you both together. However, we usually just let you do your thing but we're also happy to make suggestions. In addition, we often have a lot of fun with our couples when creating these shots. There will be no awkwardness, this will be a good moment for you to enjoy a few moments together before returning to your guests. However, we'd love to discuss what suits you best beforehand.

It makes us happy to see you have a laid back, relaxed and enjoyable experience with your friends and family. This way we will have many magical moments to capture and a unique story to tell. It is the laughter, the tears, the hugs, the smiles and the words shared between people that truly make a wedding special. Therefore as your wedding videographer, we want to see you have the most enjoyable, fun and laid back day possible.
"What can we say, we're absolutely blown away by the videos. They are spectacular and even better than we thought possible, thank you so much! It was very special and there were lots of tears. The music is great, you got it spot on!"
Emilia & Luke
Holmsted Events
Sevenoaks, Kent
September 2019
"We're in the biggest happy tears of our life! 🙂 Without a doubt the BEST present we could ask for and the most wonderful memories. Above all, I can't tell you how much I love it! :)"
Astrid & Theo
The Blazing Donkey
Sandwich, Kent
July 2019
"You made everyone cry and everyone kept commenting how professional and kind you were."
Emma & Michael
The Queens Hall
Cuckfield, East Sussex
June 2019
"We're in the biggest happy tears of our life! :)"
Jade & Sam
Preston Court
Canterbury, Kent
June 2019
"I'm so happy, its perfect, thank you so much. I can't believe how fast we received it. Its made us all cry many times. It tells our story perfectly."
Gemma & James
Coltsford Barn
Knebworth, Hampshire
June 2019
"Thank you so much for sending our wedding video, we picked it up from the Post Office today and were so impressed with the beautiful presentation.  The 'story' really captures the day – thank you so much for all your hard work, we love it!!!"
Amy & Alex
Private Marquee
Sutton Valance, Kent
August 2018
"We can not thank Keith & Andy at Ignite films enough for our beautiful wedding film & how amazing they were. On the day they were both fantastic, so lovely, professional, fun and such a great support as well. They have captured our day perfectly & the end result is more than we could of ever wished for. I would 100% recommend Ignite films to anyone!"
Kelly & Darren
Marleybrook House
Preston, Kent
June 2018
Wedding videography focused on story
We create a 20 minute film by weaving together the most precious moments and words of the day and crafting a unique story. If you have 20 minutes to spare you can watch this Wilderness wedding film at Preston Court. Additionally, we give the option to have your ceremony and speeches delivered in full — provided in addition to the 20 minute story.
When we first started filming weddings, us wedding videographers were producing long, tedious three hour bore fests. Therefore, the wedding videos had no story or ebb and flow to them, lacking emotion and sentiment. Family members would find an excuse to leave the room once they saw the dreaded wedding video being pulled out. But then some bright spark in the world of wedding filmmaking decided to turn wedding films in to narrative based stories that were exciting, emotive and enjoyable. It is a style that has really caught on because most wedding videographers will now deliver their films in this way. To get a better idea of what we mean, have a watch of the video below.
We're Ignite Films, two friends who met while studying the art and craft of film-making at university. The plan was to graduate and then take on Spielberg and Scorsese… but luckily for them, we decided that being a wedding videographer is so much more fun.
The best thing about filming a wedding is seeing people at their happiest, surrounded by friends and family. There are not many more occasions in life that gift such beautiful moments as a wedding and we always feel fortunate to be a part of it.
Our goal is to create a wedding video story that can be enjoyed for the rest of your life and for generations to come. Above all, it is the those those fleeting moments shared between people and the many thoughtful words expressed on your wedding day that make it so meaningful and worth preserving. We want our wedding videography to help take you back to a moment that you can look back on and remember exactly what you felt at that time. 
We always work together on every project and believe that a job of a wedding videographer is to document your day the most laid back, easy going and enjoyable way possible. Most importantly, we're big fans of you being uniquely who you are and having the time of your life. Forget stuffy traditions, be yourself. We look forward to being your wedding videographer and being a part of your day!
Here are some pics of us in Iceland and on tour with players from the England rugby team in South Africa.
I first got interested in being behind the camera when I was a child, I always was leaning out the cat flap filming the Badgers that visited my family's garden and it even got me onto the children's TV show  'The Really Wild Show'.
Since that moment i've always had a camera in my hand and made films. What I find magical about weddings is the feeling, and speed of the day. We strive to achieve something that would take months for TV or Hollywood. But while still making it fun & relaxed, its a great challenge.
Away from the camera (but not completely) I enjoy the countryside and wildlife and you can find me in the woods and hills of Sussex looking an photographing the beauty that surrounds us. I'm also a bit of Rugby fan but I'm sure none of those skills will be needed at your big day!
This is me practising with the glidecam a few days before a beach wedding. I usually film with this device all day long — except during the ceremony and speeches — as it allows me to be quick on my feet to capture all those special moments. It is such a satisfying feeling when I manage to capture something I know that the couple will cherish, love and appreciate.
Since the moment I left school I knew that I wanted to produce films and videos. Firstly, I was able to go to college to learn media production and then on to university to study the art and craft of Documentary Filmmaking, cinematography and storytelling. I love how film has the power to move people and capture emotion unlike any other form of media. When i'm not filming or editing I like to play guitar. However, I'm not great or even good, so it's probably best if I don't serenade you through the night of your wedding. But, still, it's something I enjoy doing. 
Working with photographers
We are a wedding videographer that always has a very good relationship with the photographers we work with. We are already friends with many of them from across Kent, East Sussex, West Sussex and London. Most importantly, every wedding photographer has their own unique way of working and we take it upon ourselves to adapt and be respectful be helpful to whoever we work with in order to create both the best possible photos and wedding video memories. We feel so fortunate and appreciative to be able to work alongside so many different types of incredibly talented and creative people who inspire us and make us want to get better.
A traveling wedding videographer...
Although we're a Kent wedding videographer, we love to travel anywhere and everywhere. Therefore, even if you're planning to have your wedding on the moon — count us in!! The most exciting thing about being a wedding videographer is having the opportunity to visit new places. Wedding videography has enabled us to experience so many people and places, and we love it!
As featured on: